Embark on an unforgettable journey from the vibrant city lights of Las Vegas to the breathtaking beauty of Lake Tahoe. In this comprehensive guide, we will delve into the question, "How far is Lake Tahoe from Las Vegas?" Discover the captivating allure of a road trip through the mesmerizing landscapes of Nevada and California, and explore the hidden gems and remarkable attractions along the way. Whether you seek outdoor adventures, scenic vistas, or a change of pace, this article will provide you with all the essential information to plan a memorable road trip from Las Vegas to Lake Tahoe.
The Distance Between Las Vegas and Lake Tahoe: Unveiling the Numbers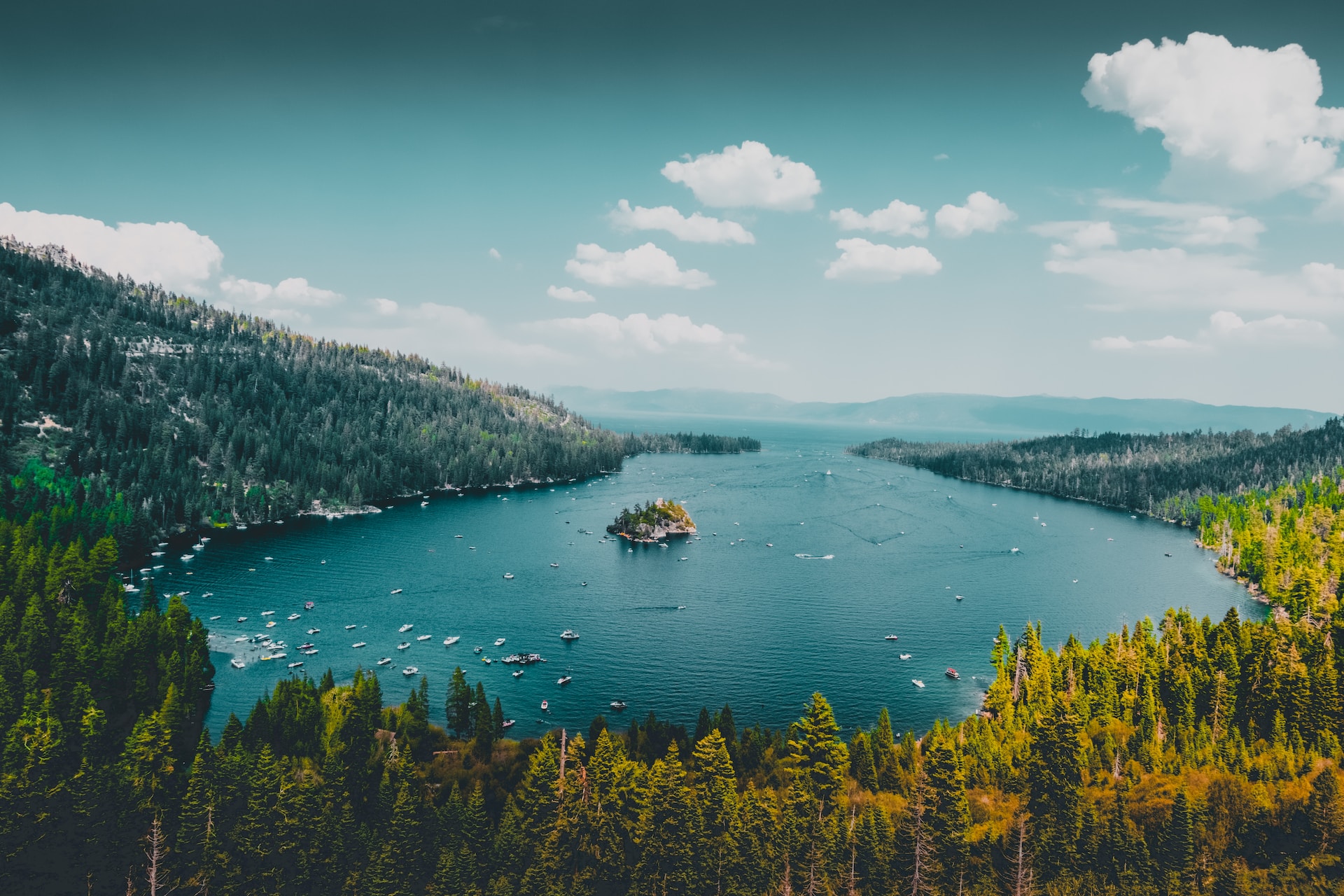 1.1. Calculating the Distance: Las Vegas to Lake Tahoe When planning a road trip, it's essential to know the actual distance between Las Vegas and Lake Tahoe. The distance is approximately 461 miles, which can be covered in around 7 hours and 48 minutes, depending on the chosen route and traffic conditions. Additionally, we will explore the travel options available, such as driving your car, renting a vehicle, or taking a shuttle service. To learn more about road trips, please see car rental for road trips. 
To determine the most suitable path for your adventure, we will discuss the different routes connecting Las Vegas and Lake Tahoe. Options include highways like I-95 and I-80, as well as scenic roads such as State Route 395. Each route offers its own unique attractions and picturesque landscapes.
1.2. The Scenic Route: Exploring the Journey from Las Vegas to Lake Tahoe For those seeking a memorable and picturesque road trip, taking the scenic route is a fantastic option. We will uncover the allure of driving through Nevada's vast desert expanses, witnessing breathtaking panoramas and encountering charming towns along the way. As you cross into California's majestic Sierra Nevada Mountain range, prepare to be amazed by towering peaks, lush forests, and stunning alpine scenery.
By taking the scenic route, you'll have the opportunity to explore fascinating attractions, such as Death Valley National Park. Marvel at the mesmerizing Mesquite Flat Sand Dunes, where golden waves of sand stretch as far as the eye can see. Discover the unique beauty of this otherworldly landscape and capture stunning photographs.
Another highlight of the scenic route is the town of Beatty, which provides a glimpse into Nevada's mining history. Explore intriguing museums, wander through ghost towns, and learn about the mining heritage that shaped the region. Beatty offers a charming stopover with a rich cultural and historical backdrop.
 Road Trip Highlights: Must-See Stops and Enchanting Destinations
2.1. Mesquite Flat Sand Dunes and Death Valley National Park As mentioned earlier, the Mesquite Flat Sand Dunes in Death Valley National Park are a must-visit stop on your road trip. These surreal sand dunes create a mesmerizing landscape, especially during sunrise and sunset. Take a walk among the shifting dunes, capture stunning photographs, and embrace the serene ambiance of this unique natural wonder.
2.2. Beatty: A Glimpse into Nevada's Mining History Located on the outskirts of Death Valley, the town of Beatty is a treasure trove of Nevada's mining history. Explore captivating museums that showcase the town's rich heritage, and venture into nearby ghost towns to witness the remnants of the mining boom era. Beatty offers an immersive experience into the region's past and a chance to appreciate the resilience and spirit of the mining community.
2.3. Rhyolite: A Haunting Ghost Town Continuing on the theme of Nevada's mining history, Rhyolite stands as one of the most well-preserved ghost towns in the state. This abandoned mining town provides a captivating glimpse into the past, with its crumbling buildings, art installations, and open-air museum. As you wander through the eerily beautiful streets of Rhyolite, let your imagination transport you to a bygone era of prosperity and struggle.
2.4. Walker Lake: A Serene Oasis in the Desert While on your road trip, make sure to stop by Walker Lake, a serene oasis nestled amidst the arid Nevada landscape. This peaceful lake offers a picturesque setting for relaxation and recreation. Engage in activities such as fishing, boating, or simply taking in the tranquility of the surroundings. Walker Lake presents a perfect opportunity to unwind and connect with nature before continuing your journey.
The Magic of Lake Tahoe: Exploring Nevada's Gem
3.1. South Lake Tahoe: A Gateway to Adventure Arriving at Lake Tahoe, you'll be greeted by the charming South Lake Tahoe, a bustling hub that serves as a gateway to countless outdoor adventures. From hiking and biking to skiing and snowboarding, this region offers a wide range of activities for nature enthusiasts and thrill-seekers alike. Experience the beauty of the surrounding Sierra Nevada mountains and indulge in the abundance of recreational opportunities.
3.2. The Enchanting Turquoise Waters of Lake Tahoe One of the most iconic features of Lake Tahoe is its refreshing turquoise waters. As you explore the area, take time to marvel at the stunning hues of the lake and the majestic mountain peaks that embrace it. Whether you choose to embark on a boat tour, swim in the crystal-clear waters, or simply relax on the lakeside beaches, Lake Tahoe's beauty is bound to leave you in awe.
Embarking on a road trip from Las Vegas to Lake Tahoe promises unforgettable experiences, scenic views, and a chance to immerse yourself in the natural wonders of Nevada and California. The distance between Las Vegas and Lake Tahoe is approximately 461 miles, offering a manageable journey with various routes to choose from. As you make your way through this captivating road trip, don't forget to explore the mesmerizing Mesquite Flat Sand Dunes, delve into the mining history of Beatty and Rhyolite, and embrace the tranquil beauty of Walker Lake. Finally, reach the enchanting turquoise waters of Lake Tahoe and discover the outdoor adventures and relaxation that await in this breathtaking destination.